"With our first baby we wanted to make sure everything was going to be okay...."
Contact Now


"Having a child will make our lives feel complete...."
Contact Now


"we feel confident that our doctor is there at every stage of our life"
Contact Now


"Calmness, warmth and expertise.... it's everything we needed for our son's birth"
Contact Now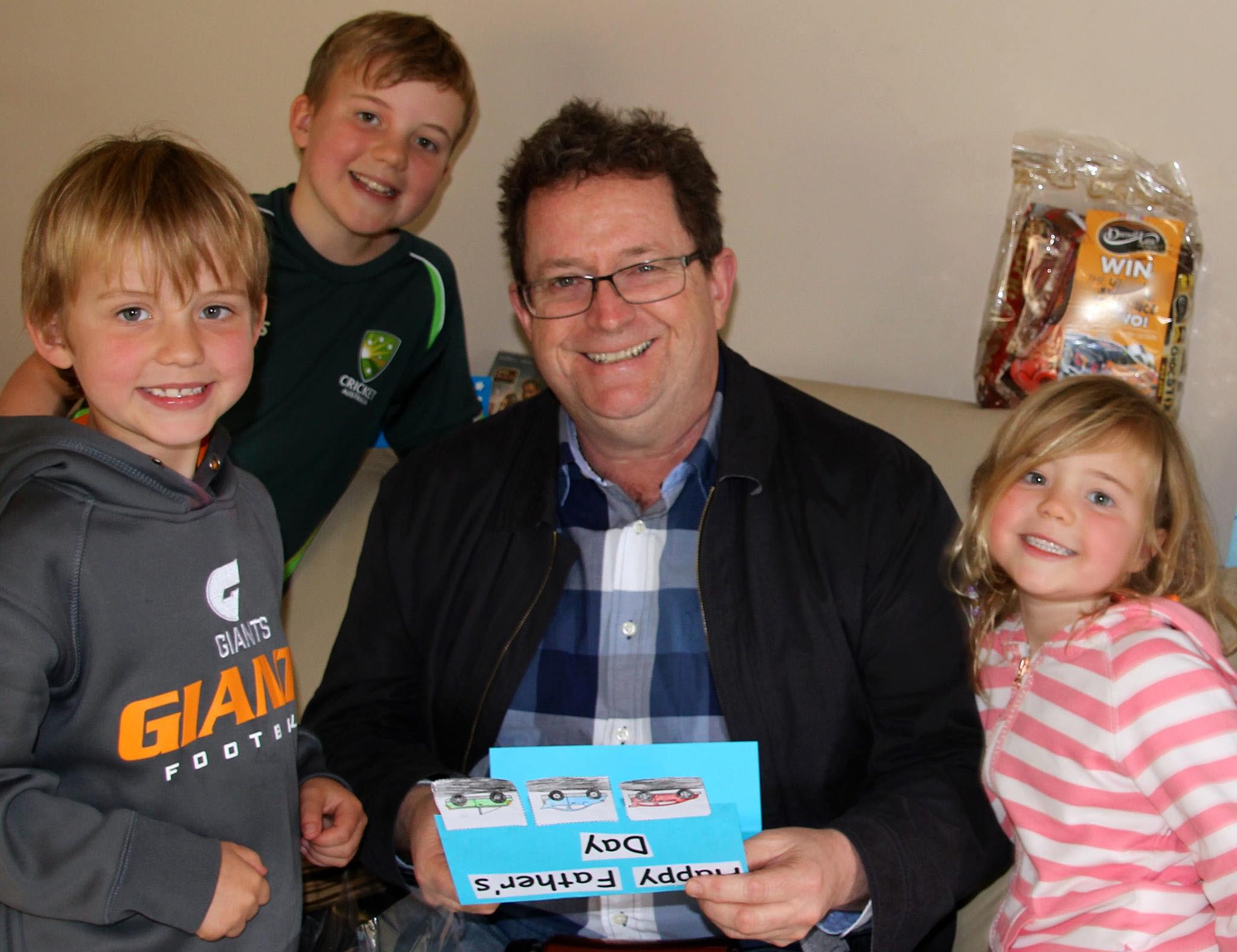 About Us
Our well established team of professionals are here to make your experience with us as relaxed and pleasant as possible. We take great pride in the care of our patients and we are more than happy to assist with any queries or concerns you may have whilst in our care. Once you arrive at our offices you will be greeted by our friendly office staff Lea and Gayna before being seen by either our experience midwife Ronnie and/or Dr Stephen Lyons.
Dr Lyons and his team look forward to meeting you at your appointment. Contact us to arrange a suitable time and location
Your pregnancy is an exciting and amazing journey and you can have the utmost confidence in exceptional antenatal care.
Dr Lyons respects a women's right to choose the method of her delivery. Whether you choose a natural vaginal birth or an elective caesarean section this decision will be supported.
Pregnancy and labour can be very exhausting and emotional. Various physiological changes will happen in your body including hormonal and emotional changes.
Calculate your estimated due date using our due date calculator. Insert the date of the first day of your last menstrual period in the Due Date Calculator along with the length of your average cycle.
Dr Lyons has advanced training in gynaecological endoscopic surgery and has been providing training to registrars at Royal North Shore Hospital and Royal Hospital for Women for the past x years.
Problems with ovulation account for most infertility in women. Without ovulation, eggs are not available to be fertilised. Signs of problems with ovulation include irregular menstrual periods or no periods.
Dear Stephen, Ronnie and Lee,
Michael and I wanted to drop you a quick note to say a huge "Thank you" for supporting us through the pregnancy and the safe delivery of our beautiful new daughter, Amy.
Stephen's relaxed nature, encouragement and support of my choice to attempt a vbac played a huge part in its success and I couldn't be happier.
Lisa, Michael, Sophie and Baby Amy
Hi Lea,
Stef and I just wanted to pass on our huge thanks to Dr Lyons for making our whole pregnancy and birth experience of our first baby so perfect. From the moment we met Dr Lyons we felt instantly comfortable and knew we were in great hands. His gentle warm approach and his sense of humour is what we loved the most. But we also loved that we knew we could get a straight answer from him when the time called for it. We were so impressed with the way he handled our delivery, and know we could have had a complicated outcome had we not had Dr Lyons there, who completely respected our hopes for a natural birth and supported us in achieving this.
When I reflect on the whole delivery, I feel so happy that it all went so well and feel really good about the whole birth, because I was in such good care. So a massive thanks to Dr Lyons for this!
If we are game enough to go for round two, we will definitely be back to see Dr Lyons!
Sarah
Hi Lea,
Gayna, Ronnie & Dr LyonsLachie, Leo & I are home now & wanted to send over a note to the whole team to say thank you!From our initial call with Gayna, our paperwork & hello's with Lea and our visits with the Doc & Ronnie, the whole experience has been fabulous; one we cannot speak highly of enough.Being the first in our circle, there wasn't anyone who could refer us to an OB. We found you and have to say we don't believe anyone else could have taken us through this amazing & life changing journey better. Not only that you became a big part of our journey & we looked forward to our visits; to hear about the next stage, see the little guy on the ultrasound & have a laugh with you all!The delivery was a little overwhelming but we felt prepared & supported & in safe hands the whole way through!We really can't thank you enough!We miss you already & look forward to seeing you for our 6 week appt.Until then, lots of love
Lachie, Leo & SamDear Dr LyonsI just wanted to say thank you for everything you did through my pregnancy. We cannot tell you how amazing your team is and how they truly made us feel like family rather than a patient. Mason is doing really well & we can't wait to bring him in to see you again very soon.Lots of Love
Naz
Steve, I'd like to firstly thank you for helping me bring 2 healthy, beautiful boys into the world.  That being said, as much as I've appreciated being in your care during 2 of my pregnancies and birth.  While both experiences were completely different from each other, I always knew I was in safe hands.
Ronnie, I was so glad you were able to be at the birth of Thomas.  Thank you for your support and advice during the course of the pregnancy as well as for your calming influence during the birth of Thomas.
And last, but definitely, not least to Lea and Gaynor, it was always a pleasure to hear your helpful and friendly voices on the end of the phone.
Once again, on behalf of our family, a big THANK YOU to all of you!
Claudine and Rod …along with Annabel, Marcus and Thomas.
Thank you so much Dr Lyons for a wonderful pregnancy and birth experience.
We knew from our first appointment you were the perfect Dr for us – the right mix of experience, thoughtfulness and good humour. Thanks to the whole team including Ronnie and Lea as well – so many friendly faces at each visit!
My cesarean went smoothly and I've had a speedy recovery – I'm sure all down to your expert skill. Thanks also for your kind words and reassurance during my hormonal phase – it made all the difference.
Andrea, James and baby Alexander
Hi Lea, and the Team @ Dr Lyons office,
We would like to thank all the staff at Dr Lyons office our deepest gratitude for your professional and personal support during our pregnancy.  The whole team took great care of us during the formal check ups and assessments to our general welfare when attending appointments.  The team displayed genuine care and friendship when we came into our appointments it is almost a shame we will not have that regular contact from now on!
Peter and Cheryl
Thanks Steve, Lea, Ronnie and Gayna for all your support along the way – we feel very lucky that we were with you Steve and the support of your team made all the difference. And here is the end result – our gorgeous little Isabella Sophie. Thanks so much!
Lou and Alex, and proud big brother Daniel of course!
Hi Lea,
I wanted to thank the team for everything they have done to get Kara here. Without the help of Dr. Lyons I don't believe that Kara would be here today with us.
Thank you,
Kelly Armstrong
Dear Dr Lyons,
Thank you so much for taking care of me throughout my pregnancy especially as it was an anxious time for me. Lily is doing great, she smiles and laughs all the time and we have a great time together. Hopefully I will see you again for baby number two!
Rebecca
Dear Steve, Lea, Ronnie & Gayna,
Just a small token of thanks for the wonderful effort you all put in towards the birth of our beautiful baby daughter, born 27/8/12, Rose Lily Elizabeth Geargesan. Thank you for your professionalism, kindness and patience.
Love Kylie, Michael, Lily, Elizabeth & Rose.
Dear Stephen, Ronnie & Lea,
We are so grateful for your support with the delivery our son Darcy. Your absolute professionalism, advice and constant support throughout the pregnancy and then when the big day arrived assured us we were in the very best of hands.
We believe your calm approach during our labour, advice on our options at each stage and guidance throughout meant we were able to welcome Darcy into the world in a way that was a rich and special experience for us.
Darcy has changed our lives forever and we are so very thankful for his safe and healthy arrival, we have you to thank for this.
All the best going forward.
Kind regards
Heather, Alan and Darcy.
Dear Steve,
I'd like to thank you for your professionalism along this all adventure that started nearly a year ago. It was really reassuring for me to have you onboard, particularly at the end. Luca is a really nice baby, healthy and smiley. Please pass on our thanks to your staff as well for their support.
Regards, Stephanie
Dear Dr Lyons,
I wanted to say thank you so much to you and the team for the fantastic and very professional care I received prior to and throughout my pregnancy! I feel very fortunate that I found you.
Thank you
Annette
Dear Dr Lyons,
Thank you for taking such good care of us all once again. Thomas has been such a gorgeous addition to our family and Saskia absolutely dotes on him. We will be back again for no. 3 (not so soon I hope!).
Love Vanessa, Nathan, Saskia & Thomas
Dear Dr Stephen,
We would like to thank you for your care during our pregnancy and the safe delivery of our little baby boy, Jonathan Jesse. It has been a wonderful experience and we couldn't ask for a better obstetrician than yourself.
Thank you again and hope to see you for our number 2 (hopefully).
Regards
Elisabeth & Suwanfi
Dear Dr Lyons
Thank you for the safe delivery of our beautiful daughter, Mikaela Annaleigh, and for looking after us all throughout the whole pregnancy. We appreciate how you put us both at ease and were willing to answer any questions we had. Hopefully it won't be too long before we see you again for the next one!
Kym & Luke
Steve,
We are so glad to have met you, not just because we joined such a great doctor, but also we found a great person! We much appreciate all your support, professionalism and kindness during the entire process!
With warm regards
MJ, Raul, Luciano, & Mauro
Dear Steve & Staff,
Thank you so much for your care during my pregnancy, it's all resulted in the birth of little Stella – the final string to my bow!
All the best
Mel & Ed
Dear Steve
From Day 1 we counted ourselves lucky to have you recommended as our obstetrician. Your nice-guy reputation was spot on and this really helped Emma relax and enjoy the pregnancy. We appreciated your sense of humour but knew we could count on you when things got serious. We were confident Emma and Annabel were in good hands.
Thank you in particular for dealing with Emma's haemorrhage. This was a very scary run of events and your presence made all the difference. We can't thank you enough.
With thanks
Emma & Ben
Dear Stephen,
Well we made it through….!!
Thanks for all the support and encouragement and firm words when required (☺)!!
Dearest Dr Stephen Lyons and all the team,
We would like to thank you once again for your support during the pregnancy and, in particular, your guidance and advice during the labour & birth.
We wanted to thank you for honouring our wishes and birth plan along the way, and when the time came that we needed to choose other options you were incredibly supportive. We always felt comfortable and calm throughout the whole process.
We are really pleased with the outcome of the surgery with minimal pain and a very small incision. We are so thrilled with our perfectly happy son, Luca. He is such a cutie – an absolute gem.
Thank you so much for everything. See you for the next baby!
Love from Jilda, Justin & Luca
Dear Stephen, Ronnie & Lea,
A big thank you for making this pregnancy/birth experience a smooth and easy one. I know Thomas will miss his appointments with his beloved Ronnie and "The Lion"! Alexis is a dream baby – feeds and sleeps beautifully!
Best wishes
Marnie, Charles, Thomas & Alexis
Dear Steve,
I just wanted to put down in writing how much I deeply appreciated your professionalism and care during my pregnancy and the birth of Madeline. After my first pregnancy, in the care of another hospital, I felt abandoned and subsequently had a hard time adjusting to motherhood. Because of this I approached my second pregnancy with great dread, not daring to hope that it could be better, but with your help it was!
Your suggestions and coaching with clear and calm instructions was fantastic. I felt very proud of myself. Your bedside manner at all times was respectful, thoughtful and compassionate – I felt good about placing my trust in you.
All in all, you put me in the best possible position to create a different, more positive motherhood experience and I will always be very, very grateful of that. Thank you for doing your job so well.
Christine
Dearest Stephen,
It is with great sadness we say goodbye!
Thank you so much for the wonderful care you've given to us prior to and during the birth of our three daughters, Matilda, Florence and, more recently, Clara.
We have enjoyed getting to know you and hearing about your lovely family. It's not a common occurrence to find a doctor who is not only extremely well skilled but who also possesses excellent interpersonal skills and that all-important caring nature. We feel very blessed!
We wish you much health and good fortune in your future career, and with your family.
Kathryn & Scott
Hi Team Lyons,
Just a quick email to say thank you to all of you for your support and most importantly the calm and safe delivery of our precious son. We couldn't be happier with the smooth sailing pregnancy, labour and delivery and would like to make sure we share our gratitude for your expertise and support throughout our experience (especially to Steve, thank you – we couldn't imagine going through that without you!).
Thanks again
Sarah and Duncan
Dear Stephen, Lee, Roni and team,
Although a little late in sending this, Nick and I wanted to thank you all once again for the amazing care and support you have shown us over the course of having Oscar and Ruby. You made our time pregnant as stress free as possible and the birth of our two healthy, beautiful children are testament to your practice. Wishing you all the best in the future,
All our love
Linda, Nick, Oscar and Ruby
Hi
Thank you to all of you for making our pregnancy and birth special and exactly what we wanted.
Kindest regards
Antonia
This is a huge, heartfelt thank you for giving us the birth experiences that we wanted and amazing support throughout our pregnancy. Everything went so well that I wouldn't change a thing next time around!!
Stephen, Jono & I appreciated your fun & laid back approach and making us feel very special and not just another patient.
Thank you so much for helping us bring Cyrus into the world. Your knowledge, professionalism, expertise and caring were so comforting to us all through our pregnancy, delivery and postpartum. Cyrus is our precious baby boy and we can't thank you enough.
You are greatly appreciated and will be remembered as a very important part of Cyrus's beginning. I cannot imagine how people give birth without you and your amazing team – you should all be proud!…
And a very special thank you to the ladies: Lea, Jackie, Rose & Ronnie.
Thank you all so much for everything you have done for our family! The birth of our first child was such a beautiful time for us and your kindness helped to make the journey so smooth
With love and admiration
Nilu, Jono & Baby Cyrus
Dear Dr Lyons, Ronnie, and Lee,
Thank you for your amazing care throughout the pregnancy. Dr Lyons, thank you for delivering another healthy boy to our beautiful family. We are delighted to have 3 beautiful boys.
Emma, Bryn, Cai, Lloyd and Haydn
Hi Lea, Jackie, Ronnie & Steve,
We have held off sending our thanks as it will be goodbye (unless we have a third….gasp) which just seems so strange. You have all meant so much to us during the biggest & most special moments in our life & it's sad to think about goodbyes! We can't thank you enough for bringing both babies into the world!We felt blessed to have your guidance & support in the lead up to & during our pregnancy & Lachie's birth! Nothing changed or lessened with preparation & delivery of Baby No. 2 & we continued to have that same level of care preparing for Milly's arrival! We just can't imagine having anyone else with us on this journey & from the bottom of our hearts, thank you for your care, support, advice & for making this little couple into a very happy family of 4!
With much love & thanks
Leo, Sam, Lachie & Milly
Dear Stephen, Ronnie, Lea and Jackie,
We cannot thank you enough for your amazing care, support and professional service during pregnancy and safe delivery of our little son. You made my first pregnancy as stress free as possible and made me feel I'm in a good hand at each stage of this journey. I can hardly find a word to express my appreciation for such a smooth and calm delivery experience that I'll never ever forget. That was the best moment of my life when you brought my son to me to give him a kiss in the theatre. He has brought much joy to all our family and you made all that possible.
Best Regards
Shabnam, Emmanuel and little Riley
Dear Dr Lyons,
Raj and I want to say thank you so much for delivering our two children. They are the joys of our lives and we feel blessed that you were monitoring and ensuring that Scarlett in particular, was safe and came out healthy and alive. We thank you so much for your constant care and concern and monitoring during the pregnancy, also the care delivering Scarlett. They are such happy little kids and thank you again!
Warmly
Sian and Raj