The Team
Our well established team of professionals are here to make your experience with us as relaxed and pleasant as possible. We take great pride in the care of our patients and we are more than happy to assist with any queries or concerns you may have whilst in our care. On arrival for your consultation, you will be greeted by one our friendly office staff, Lea or Gayna. First consultation appointments with Dr Lyons for both Obstretrics and Gynaecology usually last about 45 minutes. Obstetric patients will also seen at every antenatal visit by Ronnie, our experienced practice midwife.
OBSTETRICIAN & GYNAECOLOGIST
DR STEPHEN D LYONS
BSc (Hons 1), PhD, MBBS (Hons 1), FRANZCOG
After completing a science degree (majoring in biochemistry) at the University of Melbourne and a PhD at the University of Sydney, I completed my medical degree, also at the University of Sydney. I subsequently undertook specialist training in Obstetrics & Gynaecology at Royal North Shore Hospital including a secondment in the United Kingdom at Odstock Hospital, Salisbury. After becoming a Fellow of the Royal Australian and New Zealand College of Obstetricians and Gynaecologists (RANZCOG), I undertook two years of advanced training in minimally invasive gynaecological surgery at Sydney's Royal Hospital for Women.
The focus of my practice is divided fairly evenly between obstetrics & gynaecology. I deliver babies at the Mater Hospital, North Shore Private Hospital & Royal North Shore Hospital where I am a Visiting Medical Officer (VMO). I am also a VMO in advanced gynaecological endoscopic surgery at Royal Hospital for Women in Randwick as well as the aforementioned hospitals.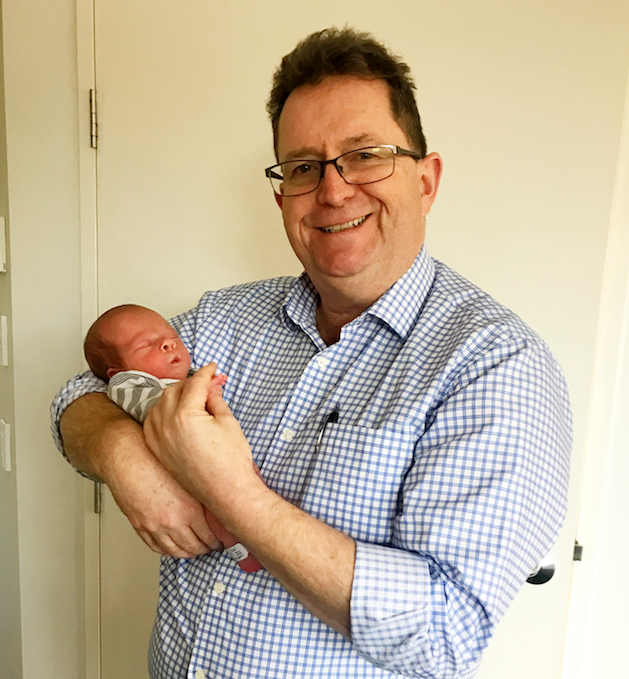 I am passionate about education and am involved with medical student, junior medical officer and specialist-in-training teaching at Royal North Shore Hospital and Royal Hospital for Women. I am a Senior Lecturer at the Universities of Sydney and New South Wales and an examiner for the RANZCOG Membership examination. I am heavily involved in medical research and have published extensively in the international literature. I am on the Editorial Board for the Journal of Minimally Invasive Gynecology.
I am a Councillor on the Board of RANZCOG and Chair of Education on the RANZCOG NSW Regional Committee. I am also a Director on the Board of the Australasian Gynaecolgical Endoscopy & Surgery Society (AGES). I am the Obstetrics & Gynaecology representative on the Mater Hospital Patient Care Review Committee.
I am married to Fiona and have been blessed with 4 beautiful children, Liam, Thomas, Harry & Emily. When not at work, I enjoy spending time with my family, playing tennis and mountain bike riding.
PRACTICE MANAGER
LEA SHAPIERA RN, RM
Lea is my practice manager and ensures that everything runs smoothly and, as much as possible, that I'm not running late! Lea has worked in medical administration for more than 15 years, and has been working with me since 2008. She manages and oversees all aspects of the office including accounts, online billings systems, coordinating hospital bookings and liaising with referring doctors and specialists.
With a nursing and midwifery background, Lea is also involved in ensuring clinical outcomes are maintained at a high level.
Lea is particularly interested in improving and implementing practice protocols, particularly in moving towards the implementation of "e-health" to ensure the most up-to-date services are available for our patients.
She is committed to ensuring the team is focused on helping you with any enquiry and to support you however we can during your pregnancy or treatment.
When not at work, you can usually find Lea on the golf course.
PRACTICE MIDWIFE
RONNIE SHEPHERD RN, RM
B(Nurs) Registered Midwife. Registered Nurse.
Ronnie commenced as Practice Midwife in my rooms in 2010. She is an experienced midwife having worked in both public and private hospitals.
Ronnie trained and worked as a Registered Nurse at Sir Charles Gairdner Hospital (Perth), before becoming a Registered Midwife at King Edward Memorial Hospital. She worked in the labour ward for 14 years as a clinical midwife and obtained a B(Nurs) ECU during this time before moving to Canberra and then Sydney.
Ronnie commenced at the Mater Hospital in 1993, her experience there included Acting Unit Manager in Delivery Suite and Postnatal Ward, midwife and Clinical Nurse/Midwife Specialist. She continues to work at the Mater in Delivery Suite as Clinical Nurse/Midwife Specialist, on a part-time basis.
Ronnie is in the rooms at the Mater Clinic on Wednesdays and Thursdays and is available to discuss issues relating to your pregnancy, labour, birth and postnatal care. She will monitor your physical wellbeing as well as your emotional wellbeing and may be available to care for you in delivery suite during your labour and birth. A visit following your birth at the Mater and a follow-up phonecall postnatally prior to your 6 wk postnatal visit, will provide you with extra support.
Ronnie's knowledge and experience both as a midwife, nurse and mother enables her to bring a balanced "midwifery based" perspective to your care.
PRACTICE RECEPTIONIST
GAYNA MAJOR
As a first point of contact, Gayna is an integral part of the team and epitomises the nature of the practice with her fun-loving, yet caring attitude.
With more that 10 years experience as a medical receptionist, Gayna is well versed and available to help you with all of your questions. She has a very easygoing nature, which is particularly helpful when you are in the early stages of a new and exciting, but occasionally stressful period of your life.